Holy Moly
Has it really been almost a month? I hate that I do that. I swear, sometimes I think I have nothing to talk about, when I really really do. There is always something going on in my head that I can write about. When there isnt anything up there, I will start to worry.
So I got my first black eye yesterday. The Stallion is going to kill me because I keep mentioning it but you know what, I think its cool and funny. I know how stupid that sounds.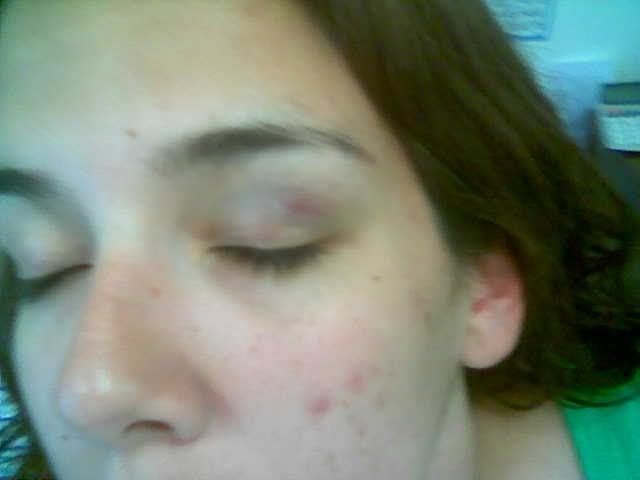 Dont mind that I am wearing NO makeup and look hideous. I dont even have an excuse, I am
at work
looking that that. Keepin in real.... real scary.
But yes, I earned my black eye in the best way possible - changing positions, from the top to the bottom. We were pretty into it too, and it might have killed his mood a bit but after some ice, I was ready to keep going. Why turn down a good thing? It turned purpleish about 3 hours later. Now it has a hint of red in it... I look like a
MAC
girl. But a really fucked up one who never learned how to put on her makeup. Thanks for the shiner baby!
Anyways, enjoy this -
1. Which is more important of the two in "chemisty," physical attractiveness or sexual performance?
I think you have to be attracted to someone to even get to the sexual performance. I mean, who wants to fuck someone who is ugly? Does that sound shallow? LOL
2. Would you rather have sex with someone who is a good with their mouth (in every sense) but small (flat chested or teenie penie), or a bad with their mouth but well endowed?
I cant say I have experienced either of those. Luckily for me, the Stallion is both well endowed and is EXCELLENT with his mouth. [I swear, I would make him the most popular guy EVER if only his buds could get me to spill all this to them! LOL]
3. Do you prefer natural tastes or flavored lubes?
Most flavored lubes have funky after taste. I'll go with natural here.
4. Have you ever been scared the first time you kissed someone that you might never kiss them again?
OMG yes! I hate that... with the Stallion, his kiss was so damn good the first time, I needed it again. Except I didnt quite know how to go about getting it. Good thing he has big balls and went after me again! LOL
5. Do you play music, tv, or other noise in the background when you have sex?
We usually have the radio, Ipod, or a CD playing. It turns me on when he sings to me and later, when I am listening to the radio or something, I remember what I was doing the last time I heard that song. [and I want to do it again!]
Bonus (as in "optional"): Most embarrassing sexual moment? (that was cruel wasn't it?)
Sheesh...... well it was pretty embarrassing asking for ice when butt naked after I was head butted. LOL
At least I wasnt the one that had to get dressed and go get it! LOL
Well that was fun. I am really gonna try this time to keep up with this. Promise!